What kind of photography did you do before weddings?
I was a photojournalist and worked all over the country. I've had my work appear in Time Magazine, The Washington Post, The New York Times and many other publications. I've worked on assignments that have taken me all over the word including being part of a team that were Pulitzer finalists for coverage of military contractors that operated out of Afghanistan and Iraq. I've received global recognition in Pictures of the Year, International, on two occasions and received The Cliff Edom Award for a photo story on the Amish. I've had work displayed in museums like the Tokyo Museum of Photography and have been on several lecturing circuits to talk about my photography. I discovered weddings a few years ago and my skills in photojournalism lend itself perfectly to this field. But more importantly, I enjoy it very much. Here are some examples of photos that I captured...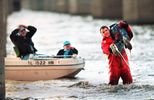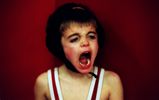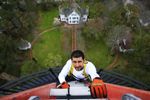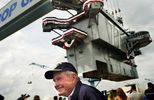 How does the booking process work?
We require a 50% deposit to book your date on our calendar with the balance due 30 days before your wedding. We can take credit card payment right over the phone.
May we see a gallery of a recent wedding?
Yes. Of course you can. I'm very happy you asked. If you inquire about photographing your wedding I will always respond with some recent work that may not be on the website. I think it's important you see an entire wedding gallery so that you know exactly what you're paying for. Here's a gallery from Ashley and Rodney's wedding at The Luminaire. This is a great example of a wedding with a large bridal party where we also did a first look. https://chriscurryweddingphotography.pixieset.com/ashleyandrodney-2/
How do I receive the photos once they're complete?
I will email you a link to a gallery where you'll receive a PIN code and can download all your images to your computer. I'll keep the gallery up for at least a year and you can share the gallery with friends and family. And if you would like for them to be able to download the photos you can share the PIN code with them. This is the way I deliver all images including engagements and bridals. This usually works very well but if there's any problems I can deliver a USB flash drive that contains all images as well.
How long does it take to deliver images?
I'm actually very excited about showing you highlight from your wedding and I like to turn over a few photos right away. You can expect to receive a few photos via text the next day. In some cases I've produced a 20-30 images in a quick pics gallery. That way you can update your social media right away! I usually deliver the entire gallery in 2-3 weeks.
What is a New York City Adventure Session?
Wow. So much to talk about here. New York City is one of the best places in the world to capture an engagement session and it's pretty affordable to book a flight and hotel using Expedia. There are amazing things to work with and we will visit some timeless works of architecture like the Brooklyn Bridge, The Manhattan Bridge. I know perfect vantage points of The Chrysler Building and the Empire State Building. And using the subway we can visit all of these places in a timely fashion. You'll be riding the concrete lions sitting outside the public library I actually keep a ladder underwater in the fountain in Central Park that allows access to the middle tier (shhh… don't tell anyone). And New Yorkers are the best people around when they see you photographing in their city. After we wrap up a certain scene I've had onlookers erupt in applause. I had a police officer actually help get a bride onto a street sign! NYC is an amazing place and those who have joined me for an adventure session have said it's a life changing experience.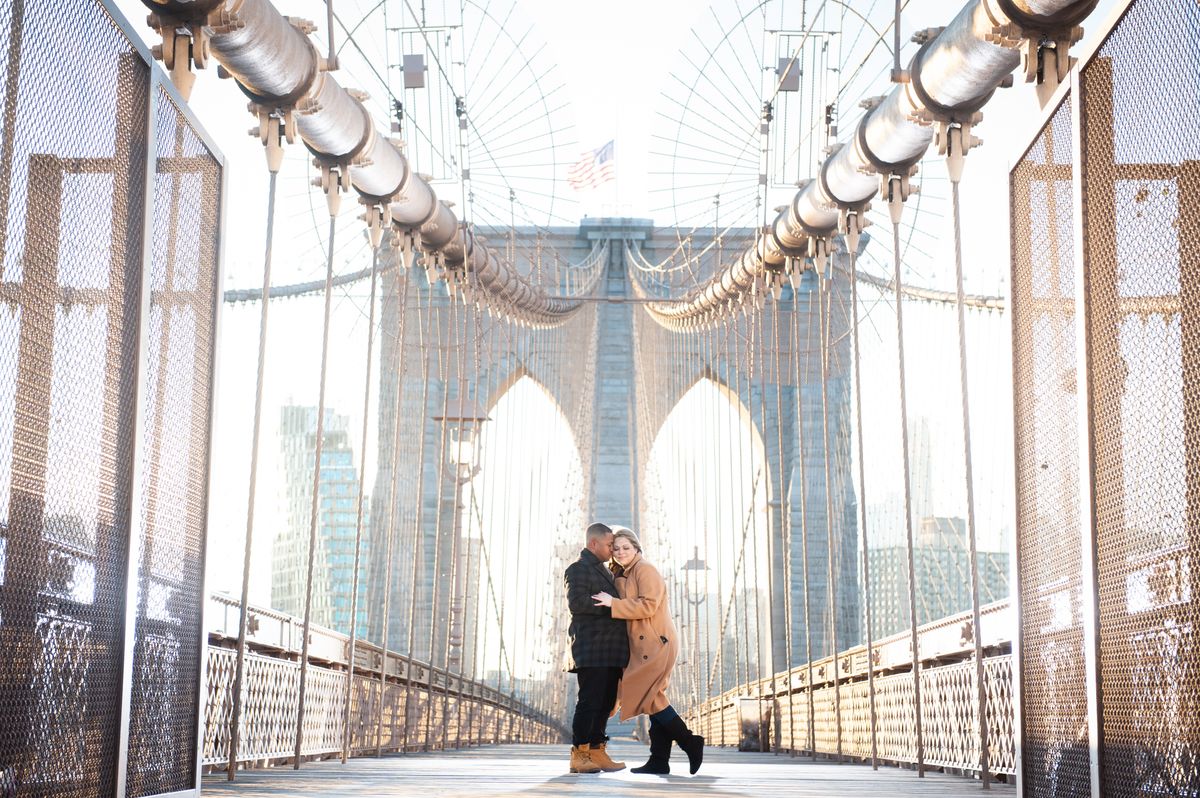 Should we do a "first look"?
Hmm… Well, it depends. There are occasions where the first look is an actual good idea. But there are a few consolations you must consider when doing a first look. Usually, bride and grooms who opt for the first look as they want to have that time for a photo session beforehand. The reason being, their wedding might be scheduled later in the day where we would lose valuable daylight following the ceremony. But there are a few caveats. it will lengthen your day as now you've got to be ready a full two hours before time to walk down the aisle, as it's the only time you'll have before guests start arriving. And you don't want to be seen by your guests before your ceremony! But talk to us and we will come up with a plan that is best for you.
What if you've never worked at my venue?
I am familiar with so many venues and I've worked at most of them in the Houston area. But if your venue is new and I'm unfamiliar I will schedule a time to go out and see it for myself. I'm always excited to see somewhere new, get ideas, and meet others. I look over all features that the venue offers and make an itinerary for the couples' session following the ceremony. You can expect to receive an email from me excited about this new spot I found and ideas I have.
Have you ever received a bad review?
Please, take your time and read the reviews from The Knot. You'll see how many brides, grooms and family members loved having us at their wedding. Usually, they are proud to boast about their experience as well as the results. But occasionally you will see someone who gives a one star review. Usually a one star review should be reserved for a case where the photographer took their money and never showed up. Or perhaps sent someone else in their place. This does happen with studios which is one of the reasons I named my business after myself, because you know I will be showing up. But I've received two one star reviews on The Knot for reasons that don't seem rational to me and were motivated as leverage for a refund. Of the two one star reviews I have received I am happy to share these galleries with you, if asked and allow you to see for yourself. One bride accused me of forgetting her dog's name and was one of the reasons that she demanded money back.
Are you familiar with South Asian weddings?
Yes! I have a four day South Asian wedding scheduled for 2024 and can't wait to photograph it. Now when I first started photographing weddings I photographed for a studio (SB Images) that predominately photographed South Asian weddings. I'm familiar with the sword dance, hiding the shoes, the money negotiation, etc. I can show you a few galleries privately, but I don't have them on my website because they were photographed for a studio before I had made a name for myself. I only have images on my website that I book myself.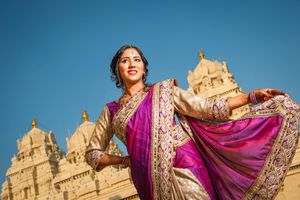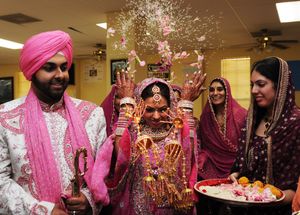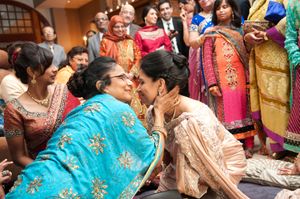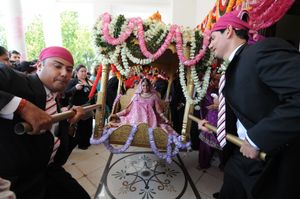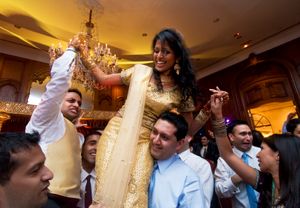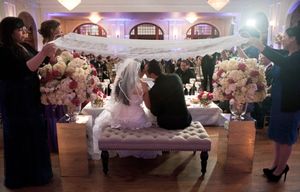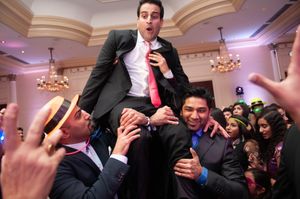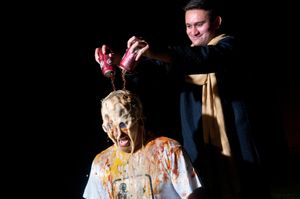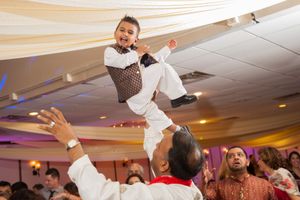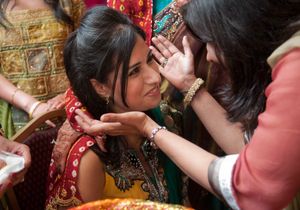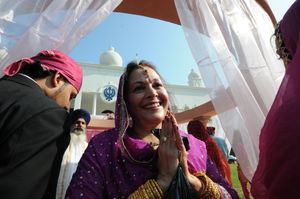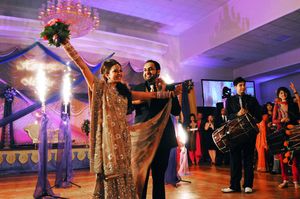 Have you seen Hamilton?
God, yes. Isn't it fantastic? If you do a New York City Adventure Session with me I can take you to his gravesite on Wall Street.
How do we do a father-daughter first look?
That is a great question. Leave it to me. Just before you're ready to walk down the aisle I will have your father come to the door and tell him to count to 10, then come in. I try and have a mirror by the door to capture your reacting in one photo. Check out all these different moments...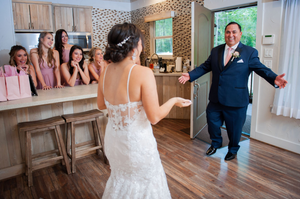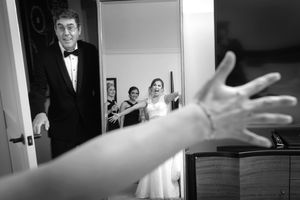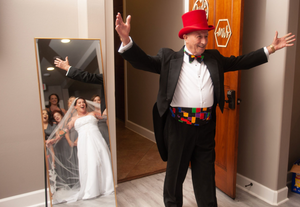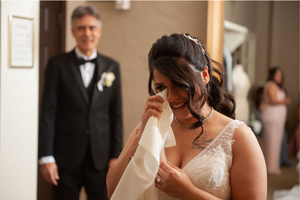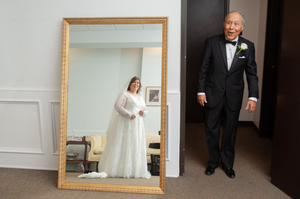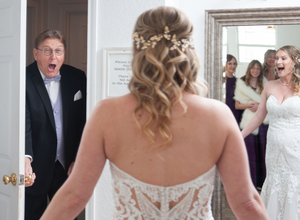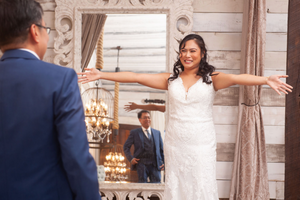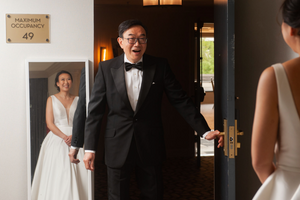 Do you love what you do?
Oh, so much! I am so happy that I've had the opportunities that I've had in my life, but they've led me to this point. Being a photojournalist has taught me so much about capturing moments and has given me a very unique style. I'm so happy I have the experience that I do, as it's made me a better photographer and I can't wait to share my know how with you!
Sure, Chris, we get it. You're good at weddings. But what about chess?
Well, not to brag, but playing as black with the computer thinking three moves ahead, I was able to just annihilate my computer in seven moves. I think it was literally trying to do the fried liver attack. We watch the same chess videos, my computer and I, so I don't know what it was thinking.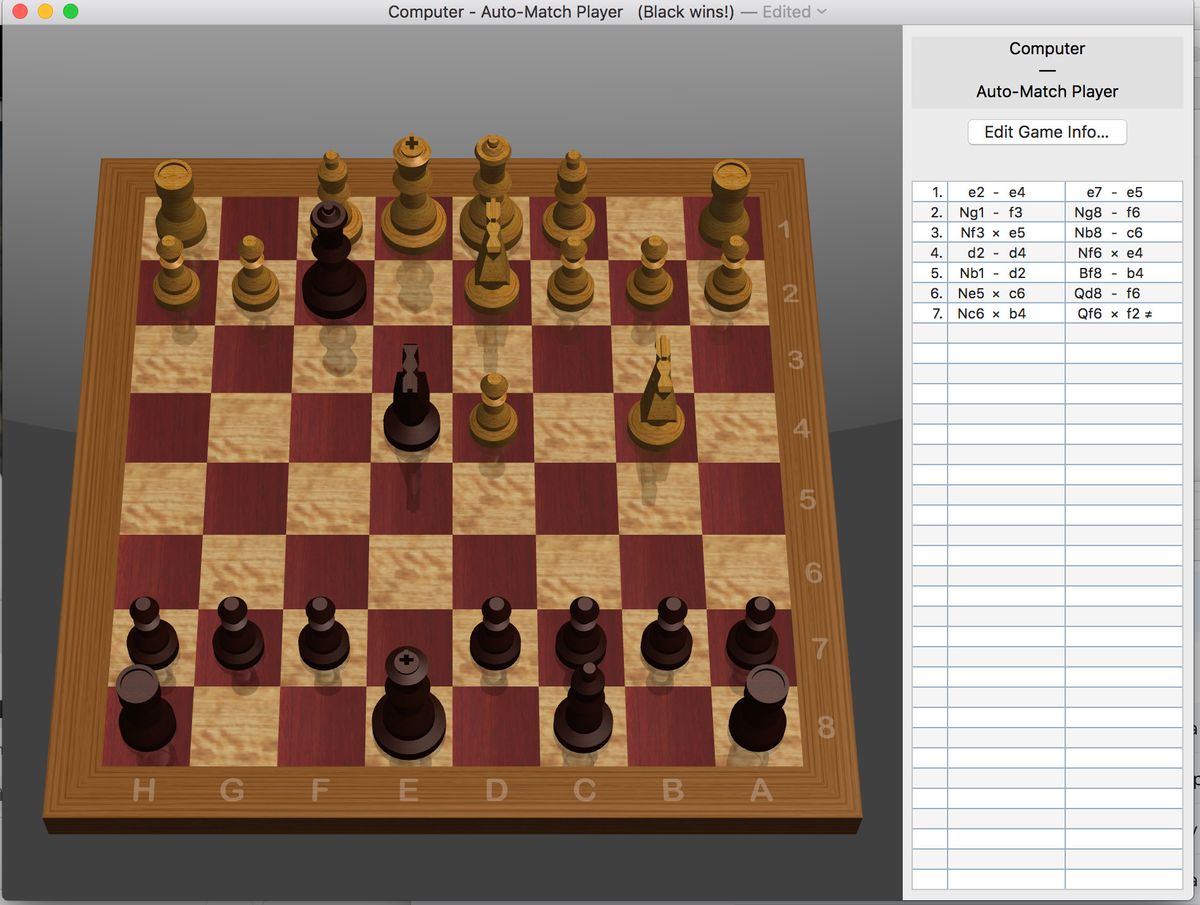 Here's a fun question... Is the photo below AI or is the photo real?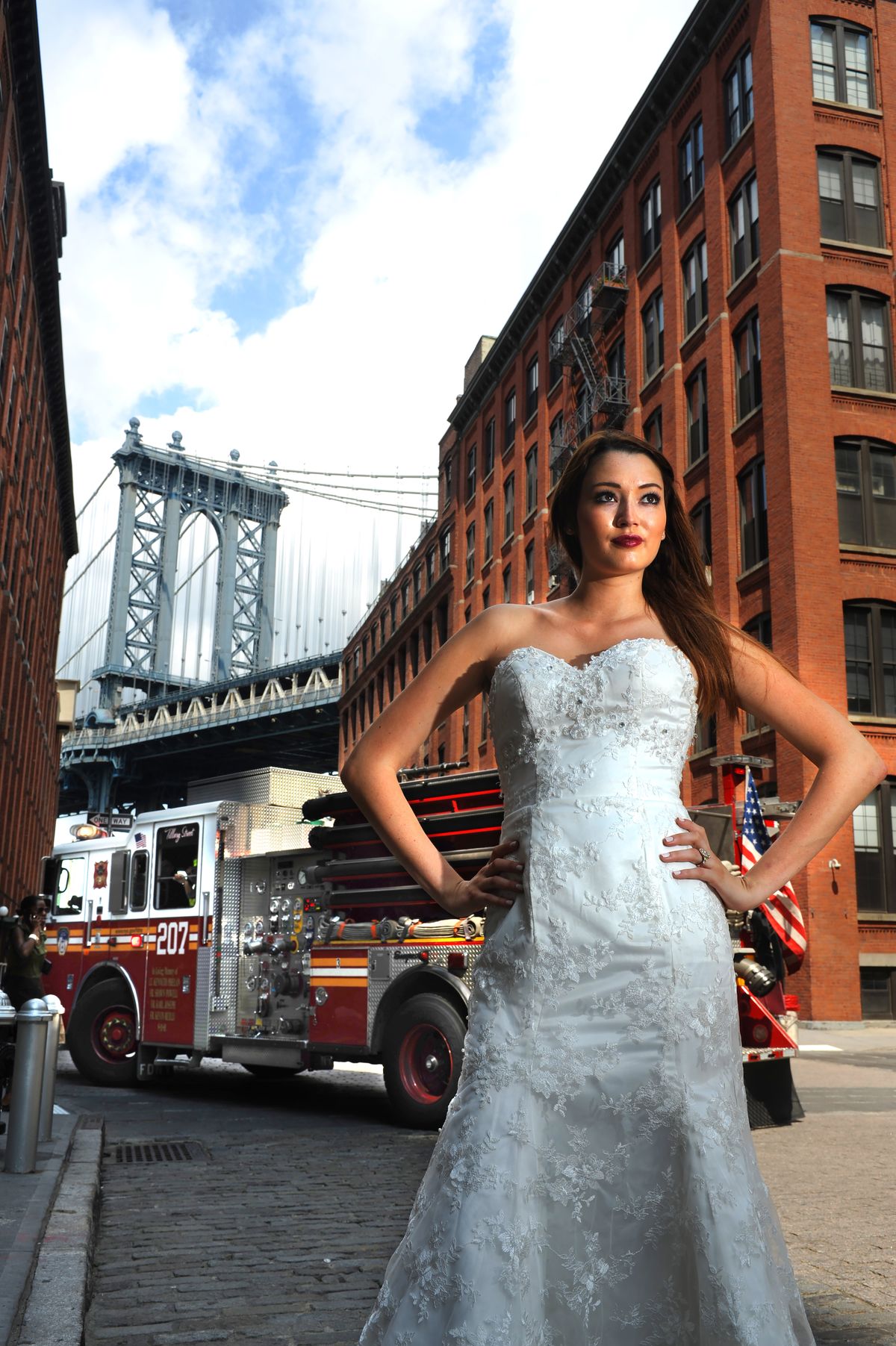 It's Real!
Believe it or not this photo, that you wouldn't be faulted for thinking is AI, is actually caught in camera just as it appears here. As I was photographing bridals in Brooklyn I saw the firetruck rounding the corner and I had a friend who was handling my lighting. I had him run a few paces to my right and got this shot, matching my lighting to the ambient light for a very surreal look. And the firetruck in the back made it all the more surreal. It's like if you wrote the words, "bride, bridge, firetruck" into an AI program, you might get this exact result.